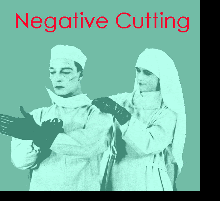 Negative cutting (also referred to as negative matching, or negative conforming) is one of the last vestiges of true film handling in the post production process. If you plan to finish on film, we're like the undertaker- you'll have to see us sooner or later. Our form of negative cutting is a hybrid of cutting-edge technology and classic Hollywood craftsmanship. From the edited material you give us (video output or workprint), we locate the exact piece of negative in all the footage you shot, cut it to the exact length indicated, assemble it in the proper order, and cement it all together, all without leaving handling marks, and making no mistakes. In this operation, there is no room for defects.
We work with big and little production companies. Our customers range from studios to students, from documentarians to experimentalists, and we love to work with them all.
We cut 35mm, Super 16mm, and 16mm negative, matching to both Digital and Workprint edits. We have the sharpest eyes in the west. And we splice only with foot-operated hot splicers (also known as Hollywood or pedestal splicers) for the smoothest, strongest, cleanest possible weld-superior to the work accomplished by any hand splicer.
We are here to guide you through all the steps and decisions necessary in getting your film to a final release print. Pre-production is the essential time for mapping our your post-production strategy.
Call (800) 618-POST for a free consultation.