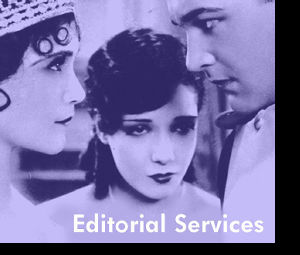 Andy Pratt's Negative Cutting can guide you through the pitfalls of post-production. From the second your negative leaves the set to the fading of the house lights at your world premiere, we can help.
We are experienced in every facet of post-production, and act as advisors on virtually every project we do. We also have close ties with four different sound houses for any of your sound needs. Even if you are a post-production supervisor, we can help- because we know what it looks like from your perspective. Titles? Opticals? Digital Effects? We've worked with the best in the business, and can interface with anyone you choose - or make some recommendations ourselves. We can help you stay on time and on budget- and we have the scars to prove it.
Editorial Departments
We can help you establish an editorial department by arranging for the space you need, everything to equip it (check out our equipment list), and if you need them- the editors and assistant editors to run it. We can recommend highly qualified personnel for all aspects of your editorial needs, and help arrange for their hire.
Dailies Syncing
We can sync your 35mm, S16/16mm dailies and prepare them to your most demanding specification. We work in association with Alpha Cine Laboratory and coordinate both the workprint and sound transfers based on your editorial department's requirements. From a single camera shoot, to something like Kevin Costner's The Postman, with as many as 9 cameras shooting simultaneously--we have met the requirements and the deadlines. Needless to say, we also offer edge coding.
Conforming Workprint to a Digital Edit
If you want to conform workprint to the digital cut so you can see it projected, we're here for you. We pull the select negative, have a workprint made, and conform it to the edited digital version. All of our tape splices are invisible, and we handle the workprint just like we handle negative, so you have the finest quality print for projection.
Post-production Advisors
We have the resources and the contacts to steer you through the post-production maze. Do you just need a question answered? Ask us. We are here to help. We've forgotten more than most people know, and still don't walk into walls.
Editorial Rooms and Equipment
This is a sample of our equipment: 16mm and 35mm KEMS with flicker free heads. ( We also have Super 35 capability). Tables, editing chairs, sync blocks, sound heads, squawk boxes, back racks, standing racks, power rewinds, manual rewinds, coding machines, tape splicers (straight and diagonal), spacers, spring clamps, trim bins, tight winds, core adapters, reel horses, film punches, tape dispensers, table racks, flanges, 2 and 3 inch cores for 16mm and 35mm. we even have upright Moviolas in 16mm and 35mm.